OK let's do this!

Adapted from a manga by Sagusa Yu and Tachibana Kenichi. The manga material is definitely, absolutely worth it.
The studio is Liden Films, and while the manga first came out in 2011, its adaptation arrived in 2014.
Opening
 "Amazing Break" by Terraspex, Ending "Lightning the World" by the same band.
---
Setup:
During the 21st century, mankind decides to colonize Mars.
Since the planet is mostly covered by ice, they first send mold and cockroaches to terraform it.
Of course, 500 years later, as the first humans are sent there to see wether the planet can be inhabited or not, shit happens.
The cockroaches that had been chosen for their sturdiness have evolved into humanoid super-strong creatures, and they remember well how humans used to crush them under their boot for no reason.
The entire crew of Bugs1 is slaughtered.
In order to fight these monsters, the members of the next mission -Bugs2- endure a specific surgery to enhance their abilities with those of various insects. They receive the tremendous strength of the bullet ant or the deadly poison of the hornet, though, most of the crew doesn't survive this time either.
Worse, as the rest of the members get back to Earth, a virus has travelled along and kills without hope of treatment a fearful bunch of the population.
Given such perspective, 20 years later, the mission Annex is launched with 100 members from all continents with even more powerful enhancements.
Their missions: bring back cockroach samples to study them on Earth, make a vaccine out of it... but also kill as many of these monsters as possible.
---
What you need to be aware of:
- It's brutal. During fights against the Terraformars, both human and roach limbs keep flying everywhere. Blood is noticeably discreet but it doesn't prevent you from watching guys get their skull crushed or roaches explode.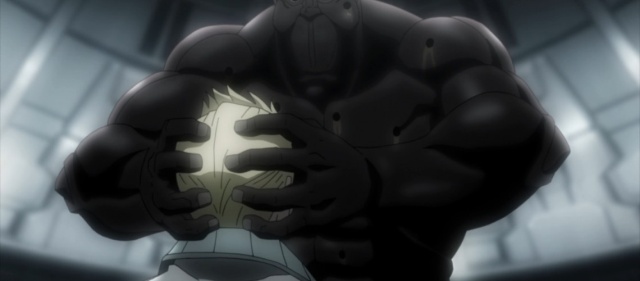 - ...given that, and most horribly, the censorship on the first 3 eps is insane.
I've never seen this anywhere before. Under the flag of "we can't show dismembered humans on screen" -which, yet, has happened countless times in the past, for example in
Elfen Lied
which is gore and violent as fack 
- the studio decided to hide stuff during some fighting scenes. And by hide, I mean that if the "violent part" covers half your screen, then you get half of your screen blackened. At first I thought it was an artistic choice, then I started doubting the quality of the video...but... simply censoring. I mean holy shit, it's not only furiously ugly, sometimes you can't even understand what's happening 
 Thankfully, the fandom got wild asking for their manga violence back, and this nonsense disappeared from the 4th ep till the 12th. Thank you, dear active fans.
---
What I liked in this show:
- Gloomy atmosphere: this is a survival show, and the tone is given out straight on, with mostly grayish colors and a good deal of shadows. The feeling it gives off is perfect to render the deadly situation the characters are in, and in that field the manga adaptation is really good.
- Villains you love to hate: they look ugly, they look stupid, bulky, and smash the poor humans with little to no emotion. Yet, beware their round void eyes, cause you can never really tell what's gonna happen. These mutated cockroaches are wild and creepy as hell.
- Intense pace: I'll be honest. I disliked Shingeki no Kyojin, a lot, because I felt that the pace was way to slow (man the army uses 4 eps to go ride in the woods, and in the end nothing much happens. It's merely about genociding the cast with zero character development. Eren, someone?). Back to bugs. Yes, this plot is thin as paper. However, it assumes it entirely, to serve 20min of merciless fights for every episode, from 1st to 12th. It does, and still...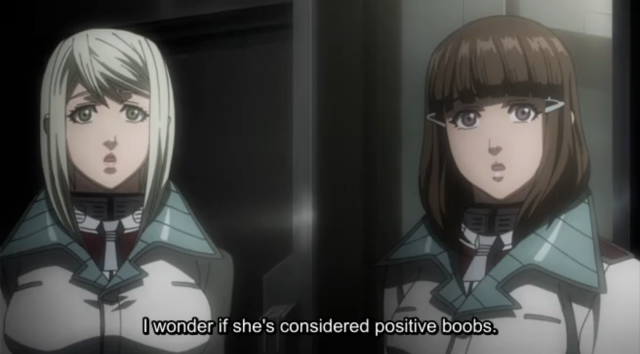 - It offers meaningful flashbacks and character development of a wide range of characters. How many times have I told myself "Jeez too bad they only focused on the main char development" or worse, "damn no development at all!"
Terraformars has the very remarkable power to deliver truly moving flashbacks, giving decent reasons for fighting to like 10 characters during the show, and that includes guys you discover at the 10th ep. Heck, one of the commanding officers has 3 eps all for himself with specific soundtrack and extremely emotional hindsights.
Sidenote: most of the voice acting is really good and the few jokes and dialogues make it feel perfect.  
Ah, Mom, you can be so romantic.
- The enhancement powers are smart. Each one is derived from a specific species. Here the passion from the manga author shines the most: get powers from living things you never knew existed, and the cast uses them with a sense of tactics that is really nice to witness.
---
 What I wanna point out in the end is this: give it a chance. Sure the censorship during the 3 first episodes is crazy, but once you get past that and then from the 4th, you can fully enjoy brutal fights while getting amazed by a bunch of species unheard of, and moved by really good character stories.
On those words...take care and watch ecchi