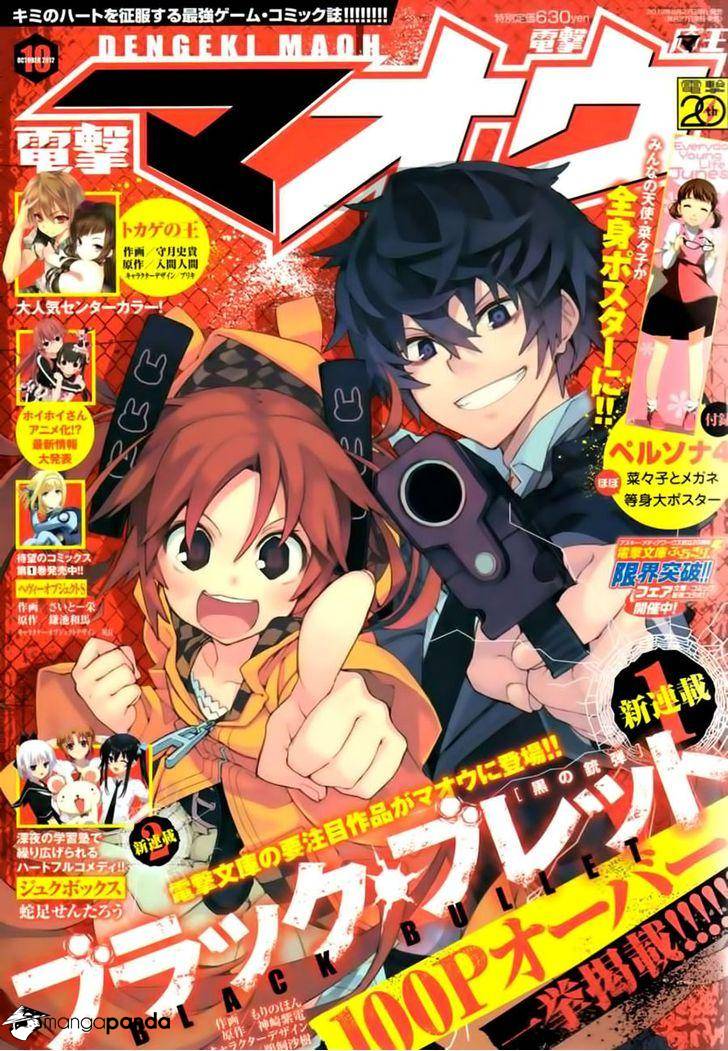 Image: 
all credits go to the astonishing authors mentioned in the following post, and to Dengeki Maoh weekly issue. Thanks to MangaPanda and ASDF Scans as well for providing it.
Today's topic is Black Bullet.
It's based on a set of light novels, which I haven't found in English yet.
Bad news since the anime makes us wanna continue for much, much longer.
The authors are
Kanzaki Shiden
and
Saki Ukai
(for the light novel illustrations), as well as
Morino Hon
(for the manga). 
First released in Japan on the 8th of April back in 2014, by
Kinema Citrus
. 13 episodes, which you can find
here
:
Remember to do your best in supporting the authors. If you ever happen to bump into the selling set, try to give it a go

Now, getting into the real thing:
The story depicts a post-apocaliptic planet Earth. 2021. A new virus called Gastrea has spread to the majority of living creatures, causing them to evolve at a frightening pace, turning into giant crossovers of insects and various other animals or plants. Since the harder it is to beat the enemy, the better, those new creatures can regenerate, at an insanely quick speed, and have boosted strength, stamina, agility, and so on.
Mankind, after eventually "winning" the war for survival, has managed to keep on breathing by sheltering itself behing large walls of black metal, the Monoliths. Made out of a specific metal Gastrea can't approach without harm -Varanium- it has allowed humans to gather in the main cities around the world and stay safe.
In such a lovely setup, 10 years after the end of the Gastrea war, you'll get to know Satomi Rentarou, a Promoter, and Aihara Enju, his Initiator.
The partners are the exemple of what is the core of the defense system against the outside plague.
Indeed, Initiators are "Cursed Children", girls infected by the virus while being carried by their pregnant mother. Thus possessing Gastrea abilities, they are the best suited to fight fire with fire.
Their Promoters, adult men and women, are in charge of these girls and use weapons made of Varanium to wipe Gastrea's butts.
Even though it starts with the usual routine mission, the story instantly drags you into the abyss, as the pair encounters a new opponent with evil plans, and the fate of Tokyo Area is suddenly set on their shoulders...
I won't go further into the story, since I hate spoilers

Here are pros and cons, displayed as general information to get you a bit more hooked
Warnings:


The real down of this anime is that the end feels like it wants you to die while waiting for a second season. I mean, as it ended, the only thing I could think of was "Where's the following season? Where's the manga so that I can switch to that!" I was hungry for more. Since the anime ain't all that old, sadly we might have to wait a bit longer (till I read the light novels and discover I've been fooled and it really ends like this lol).


Fast pace ahead! Now then, I'm only adding this to warn people who don't like fast pace. To me that was perfectly suited to convey the overall rhythm of emergency that pumps through the entire 12 episodes.


I'll add that some details in the story are introduced during an episode, yet not developped afterwards. However, tch, even saying so, I can only think of one very point, and not any more. And since nothing else has been left aside till the end, I can't believe it was just forgotten by the authors since it was quite an important factor. It can only be something developped later, whether in the light novels or the awaited second season. So then again, not that much of a bother for me.

What makes it worth watching: 


The 2 main characters. Dammit, these two truly are astonishing. They're fun, cute, dynamic, badass, and will make you cry and laugh a lot. While they're driven by their missions, they also know how to be human and very touching, deep down in their sweet hearts. They drive the whole story and make it reach the stars. I love this pair. An awful lot.


Secondary/Side characters. Not all of them play a major role, but they're all quite well set up and enjoyable. The main villain is really impressive (scary, mad, extremely powerful when fighting, and has loads of charisma).


The openings and endings. I discovered FripSide and Nagi Yanagi, and it felt good. Very good. Nice vibes, gets you straight into the action. The soundtrack is nicely set up as well.


The martial arts. Punchy, stunning, and bold. Multiple heartlifting scenes of action where you'll wish your limbs fended the air at high speed like that.


The point of view. You get to go way beyond the usual "Let's save everyone!" scenario. Although there is stuff like that, the authors managed to show both good and bad sides of the human survivors, without falling into exagerated tempers. You switch from the gloomy atmosphere of despair and hate before the Gastrea and the Cursed Children to the love for life that the survivors fiercly defend. To me this felt way more convincing than chars focused on their mission and that alone. Reaching for fresh air is what they do with all their hopes for a better world.


The pace. Fast, pumping, this is an anime that hits the road with burning wheels without getting lazy. Even moments when nothing serious nor epic happens are well set, with very funny dialogues and gimmicks.


The graphics. The original character designs have been loyally kept and it's a pleasure for the eyes. As for the animation, very fluid, very natural. Good and seriously well done work.

Give it a try, if you ain't scared of giant furry yellow spiders, you will definitely love it.
 I hope

Though it's not gone as far as the anime yet, I highly recommend the 
manga
. The ink seems like it's flowing out of every page as the punches fly.