Oy ! It's been a long time ! 
So, today, I wanna talk about one of greatest manga I ever read, Bakuman.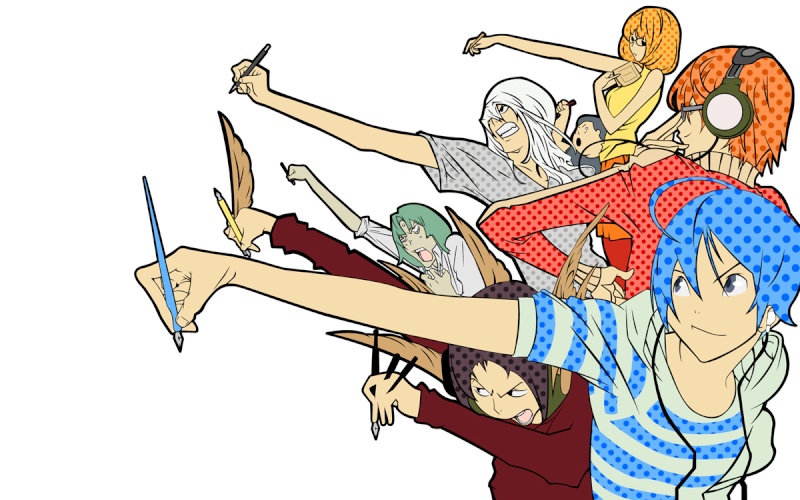 I think you have guessed what is this manga about. Yeah, it's a manga about mangas.....
I also think you're thinking "Arf, this manga sucks...", but you're absolutely wrong ! Like I said, I think it's a masterpiece !
But, let's start the presentation of Bakuman !
So, it's a manga prepublished in the Weekly Shônen Jump from August 11th of 2008 to april 23th of 2012 and written by Tsugumi Ōba and Takeshi Obata, yeah, the authors of Death Note. So, it is awesome ! There are a total of 20 volumes and 2 bonus volumes (1 characters book and 1 fanbook).
And now, this is the plot of the first chapter ! 
Spoiler:
This story is... I don't how to describe it... I love it... Bakuman is full of interesting and great characters, of great plot twists and can make you laugh, cry and be surprised in ONE chapter. 
It teaches you how the mangaka job is hard, painful and exhausting. It also teaches that the road to be a great mangaka is long and full of pitfalls... 
Good points :
-The characters ! They're all awesome, they're funny and well written. But I don't want to tell too much about them. And they're all differents. I miss them so much...
-The story ! Full of plot twists, it's fluid. Able to make you laugh your ass out, and to make you cry like a little baby. And this, even after finishing reading the manga. (I can assure you that I am actually crying because it's finished.)
-The drawings ! In the real manga or in the mangas inside Bakuman, the drawings are always beautiful. Well, it's from Takeshi Obata... The expressions of the characters are always brilliantly done. It's incredible.
-The references ! Well, I think that, when in the first chapter there's a reference to Death Note, it's a good point.
-The humor ! It's full of gags and serious humor. "I know everything because I'm sitting in the back of this class." That's one joke but there are a long list...
-The long long monologues ! Yeah, it's a good point, it's not a manga based on battles, it's based on dialogues. And some dialogues are really well written...
-This is a marginal fighting manga ! They don't fight with their fists or with Zanpakutô, but they fight by drawing mangas, and it's not classic.
Bad points :
-Nothing, I can't find something bad about this manga... (Everybody say that the end is sloppy, but it makes sense ! The end is logic)
So, if I must quickly say what I think, Bakuman is a great journey inside the manga "factory" full of plot twists, fun and emotions...
I hope you'll start reading this "masterpiece"...
Yeah, that was short...
Good bye.. 
-Kageshi Tsurai (HIRAMARU FOREVER)