So. I intended to do a review on one of my sweet, sweet ecchi anime but hit this first cause it was higher on my list 
Don't worry you'll get your review about Ichiban Ushiro no Damaiou in no time.
Had planned to add the Sea cucumber scene from that show here but backed off because it would definitely have ruined this Guilty Crown review.
Anime series of 22 episodes aired from October 2011 in Japan.
Tetsuro Araki, Hiroyuki Yoshino and Ichiro Okoushi in command.
Here is the first opening 
My dearest by Supercell (great band other stuff they do is great, imho. Feel free to check them out).
Second one is by Egoist also a great musician. I won't add it here cause spoiler-free is what we do

Plot:
2039. Young Ouma Shu lives in a SF Japan, which a terrible disease has ravaged in what is known as "Lost Christmas" ten years ago.
Consequently the country is ruled by a tyrannical organisation, GHQ, that sends its troops (Antibodies) to sort out those who may live and those meant to be taken to hospitals, in order to reduce the spread of the disease and maintain order.
Shu is extremely discreet and wishes to avoid getting others in trouble. 
Yet, as he meets his idol singer of EGOIST band, Yuzuriha Inori, his fate is forever altered. After helping her out against GHQ, he soon clashes with a charismatic man, Tsutsugami Gai, leader of the resistance organisation Funeral Parlor.
Gai orders the young hero to protect a vial called Void Genome, for it contains a mighty power that the leader intends to use for himself to take his movement to a higher step.
Shu accidently absorbs the mysterious fluid and gains its power: he can extract Voids.
These are the souls of others given the shape of extraordinary tools.
Will he hide in the shadows, as he always has done so far? Or rather accept this power and fight alongside the Funeral Parlor resistants? 
What you might not like in this show:First personnality of Shu:
I have to admit it, in the first episodes, the only things I can remember are that he's weak, flabby, kinda...void. Apart from fighting scenes of course where he crushes foes like they're made of paper. 
A massive downhill that, thankfully, disappears afterwards as the hero matures and makes tragic choices.
Transparent villains:
 Not all of them thank again the creators

 Still for a good part, I can't remember very well what they brought in the show. The mastermind baddie was cold, alright, but I'd have loved him to sound just a bit more crazy. About others, I felt like they could simply have been more developped in terms of background.
What I still liked about Guilty Crown, which made the journey enjoyable enough:Weapon designs and overall graphics:
This might be one of the things I liked the most about it. Sounds weird, but I really watched this anime past the second ep because I loved the designs. Stuff I had seen nowhere else and felt original. I mean check this out: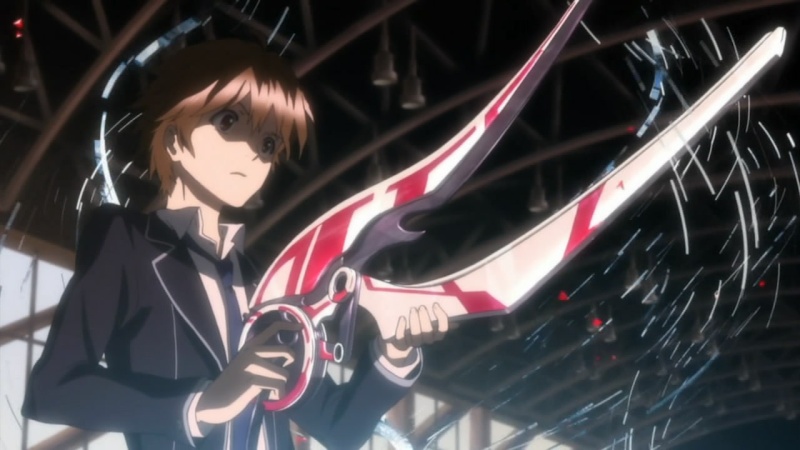 I had no idea what that was supposed to do either.
Characters on the "good" side:
not too much of them, and they all had a purpose, like the side chars in making the main ones mature meaningfully. Some interesting developments for a fair part of them.
Ouma Shu especially matures enormously
which made me, in the end, really admire him for the tough decisions he eventually makes. A character that has grown over the episodes and faced tragedies and failure. It took him some time but maybe it was for the best

Even though I think those on the "bad" side were less fleshed out, I still liked enough characters to let the story go forward. I'll add that reactions from those characters towards the events raining down on them felt quite realistic, pushing the plot on a well-built road.
Music:
Well. This must be the second thing that blasted me so hard that I couldn't drop the show. Hiroyuki Sawano strikes back (remember? He's done 
Kill la Kill
 OST). Insert songs match situations perfectly and allow the action to be taken higher. That really meant a lot here for me since I wasn't all that hyped at firsthand

  I wish for you to let your heart go dokidoki thanks to the sounds too

Dark atmosphere: the scenery is pretty greyish in the beginning, and it gets darker the more you go through the story. Not saying there aren't any lights shining but these are quite rare, making the show pretty intense. Moreover twist plots and backstories were surprising enough to make the scenario really interesting especially at the end.
Overall, I loved Guilty Crown. Thinking back about it, maybe some parts felt weird, yes Shu was awful for the first 8 episodes or so, and yes I have hated some choices made in the show about the scenario. 
Even so, I kept a positive idea of Guilty Crown, meaning these drawbacks have been powerfully pushed away by the graphics, character development, and more importantly, the soundtrack.
I hope you'll like it and go search for more of master Sawano's work