There it is! 
Desert Punk, also named Sunabouzu (the boy from the sand), has been born thanks to the brilliant work from Masatoshi Usune.
He's also the mastermind behind the adaptation of his manga on screen along with Gonzo studio.
Anime was released from 2004 to 2005 and has 24 episodes.
Live action Opening, "Sand Mission" by Hideaki Takatori
First Ending by the same artist
.
Straight from the start, you land into what's left of the world after a massive world war.
A humonguous desert, The Great Kanto, where violence is law and poverty is widespread.
To overcome these extreme conditions, the survivors wear heavy suits and breathe through rusty masks.
People eat beetles and water is the tastiest drink you can get.
There lives the best bounty hunter in the entire region, Sunabouzu (aka Kanta). Skilled with all sorts of weapons, a fine tactician, merciless against his many rivals, Kanta the Desert Punk always gets the job done.
Yet what would be a fighter without weaknesses? A very weak character project.
Sunabouzu is blessed with many strong points, but also full of flaws.
Greedy, insane, selfish and rejecting morale, he also has serious issues with women. They always trick him one way or the other, as he becames gullible (or more simply put, utterly stupid) the moment they're involved.
Will Asagiri Junko, his newest feminine encounter, get him for good? Can Kanta survive everything about to happen?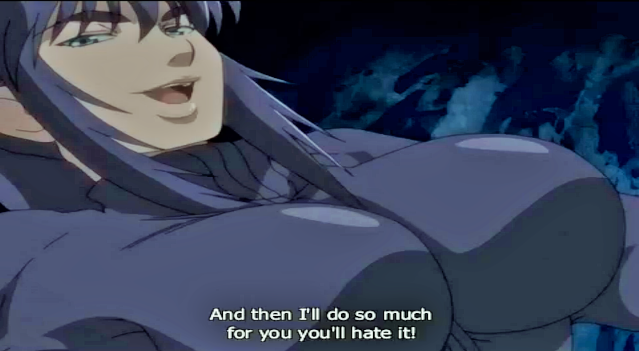 What you can't overlook before starting this journey:

This shows lacks manners: as previously underlined, this version of future is dirty. People set traps everywhere, grandpas get spanked and other grandpas sell their daughters, entire villages are brought on the verge of death for a pond of water. Knights in shining armor are mocked and enslaved. Also pudding has terrifying side-effects.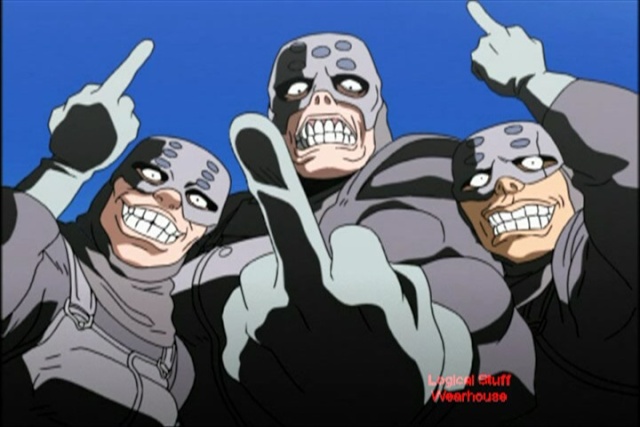 It has something to do with breasts:
Oh my. Didn't you know? Asagiri-Junko is called
Boobie-chan
for almost the entire series. You'll get some very inspired body art. Gotta honor the fair sex 
What you can't resist:
Badass fighting: shots fired every 20 seconds, grenades detonate in Thunder Rain operations, bandits spring out of nowhere and the sand never says no to some more blood. Lots of techniques, tanks, and automatic rifles that never get cold.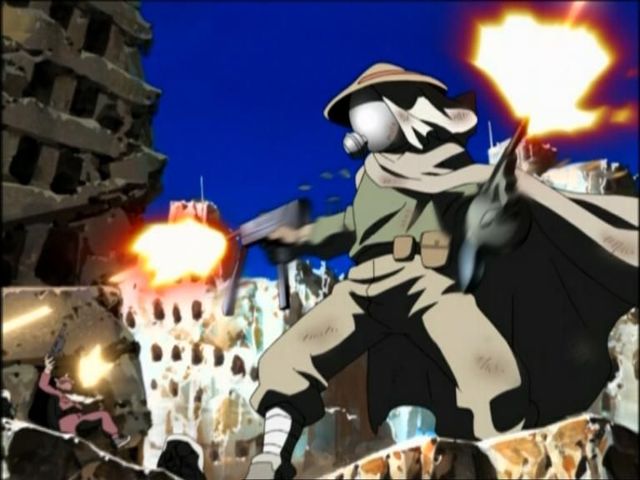 Sexy clothing: ...Kidding. What I wish to add here is that the suit designs are pretty good. Detailed, realistic, giving off a nice atmosphere for this world where eveything has ended.
Fun: this show can't be serious. Remember what I said about it lacking manners? It's actually true! Every single char in the show gets his face buried in the mud, outbursts are served for breakfast, and situations get out of hand in a matter of seconds. Most of the bad guys are plain idiots and backstories fly high.
Kanta: Yes, the "hero". Very colorful, you'll most likely find him extremely irritating. He can be quite smart, but also a true idiot in the same episode. Yet, as the story goes forward, you'll get used to his rough tenderness towards his student Kosuna, and discover how deep down, he's a great guy with a big heart.
Women:
They're taking power, and that's for the best 
 Wether it is Asagiri, Kosuna or any other lady, they all add their special effect to the show and fight like no man can. 
Overall rythm, soundtrack and animation are pretty good. Drawings are full of life and detail. A very nice adaptation 
Take a look at this chronicle! It lets badass rhyme with loads of fun, and honors the postapocalyptic vibe like nothing else out there.
P.S. This show is actually my ultimate favorite of all times. It's still okay with you hating on Kanta. I mean he can be truly awful. I'd only love you to just try a bite and see how it goes