Oy oy ! What's up ?
Today, I wanna talk a little bit about MY favourite game series ! Hyperdimension Neptunia ! Just call it Nep-Nep !
This is a presentation made in Wikipedia, sorry....
Hyperdimension Neptunia (超次元ゲイム ネプテューヌ Chōjigen Geimu Neputyūnu, lit. "Super Dimensional Game Neptune") is a 2010 role-playing video game developed by Idea Factory and published by Compile Heart (distributed by Sega) in Japan and NIS America in North America and Tecmo Koei in Europe exclusively for Sony's PlayStation 3. It is the first installment in the Hyperdimension Neptunia franchise, and is followed by Hyperdimension Neptunia Mk2. The game is a take on the seventh generation era "console war" among the three major home video game consoles: PlayStation 3, Xbox 360 and Wii.
Hyperdimension Neptunia Re;Birth 1, a remake of the game for the PlayStation Vita, was released on October 31, 2013 in Japan, and in August 2014 in North America and Europe.
That was very short. Nope, I won't say "That's what she said".... Oh...
There's also a Nep-anime of 13 episodes.
As you can see, Nep-Nep talks about the console war... The main characters are the CPUs of Gameindustri, the world of Nep... Funny fact: All the characters are girls !
The main character is Neptune, the representation of the "Neptune Project", a abandoned console of SEGA. Her nation is Planeptune. She's the craziest Nep of all the Neps.
The second Goddess is called Noire (It means "Black" in French), she is the representation of the PS3 from Sony. She's the CPU of Lastation and the biggest Tsundere ever.
The third CPU's name is Vert (It means "Green" in French)... Representation of the X-Box 360 from Microsoft.... Goddess of Leanbox and MMORPG addict.
The last CPU, Blanc (Means "White" in French) is the representation of the Wii from Nintendo, she's also the Goddess of Lowee and is fond of reading Novels.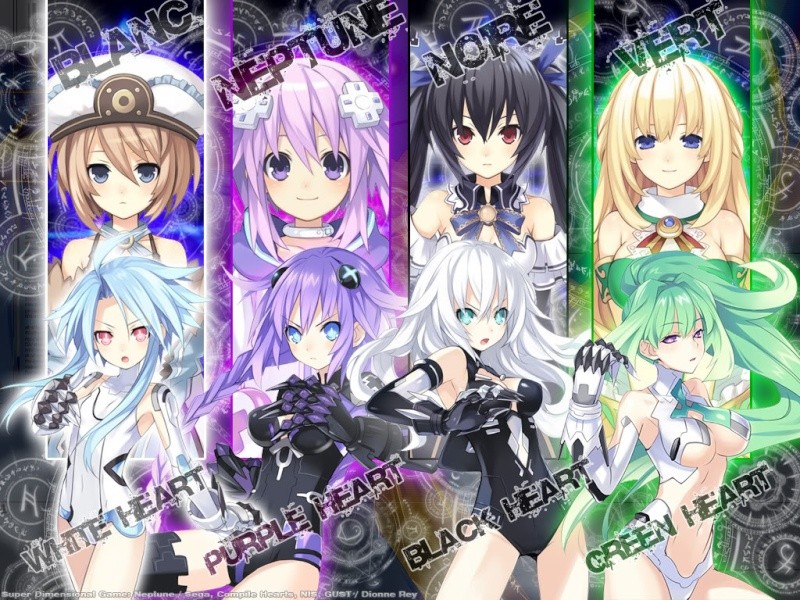 Well, now, I wanna say that it's a very funny game... Fun to play, fun to read, fun to Nep, fun to jump, fun to Dogoo, fun to see Noire <3 !
Personnaly, it's my favourite RPG... Yeah, I love this game. I really love it.
I don't want to say too much things.. I'm only here to present you an awesome game series.
I don't want to spoil you the game, that's why I stop my "presentation" of Nep right now.
But I can't say good bye like that so I show you the opening of Hyperdimension Neptunia Re;Birth 1 !
Good bye you all !