Here we are.
Pushed out of Studio Trigger from October 2013 to March 2014, written by Kazuki Nakashima and directed by Hiroyuki Imaishi. These two previously worked together... and created Gurren Lagann. Which is absolutely amazing.
Meet Matoi Ryuuko, a transfer student who just entered Honnouji Academy.
It will be a matter of seconds before you realize that school ain't your typical playground.
Members of the Student Council, as well as those of the school clubs, wear specific outfits, Goku Uniforms, which provide them godlike powers.
With these out-of-the-ordinary skills, they rule by force over the other students, in a chaotic atmosphere.
However, the freshly arrived girl isn't one to bow before tyranny.
She is quick to draw her scissor sword and fight head-on against the Four Devas and above all, steel will on high heels, the President of the Student Council, Kyruin Satsuki.
Yet Ryuuko follows another goal: discovering who murdered her father.
Convinced that Kyruin Satsuki will give her answers, she enters a fierce battle.
Soon she is brought before a mysterious outfit: not a Goku and looking like a sailor uniform, it suddenly speaks to her.
"Matoi Ryuko, you shall be worn by me, Kamui Senketsu."
Hereby, the two of them will fight together as one, and face unbearable truth about clothing. 
Warnings:
Hotness Overload: I have added a pic below, where you can whistand the amount of bare skin shown constantly over the 24 eps. Honestly you should get over it soon, since it's hilarious (and used to criticize oversexualisation shown in most anime). I won't even mention Nudist Beach, a.k.a. a terrorist group whose aim is to take down a fashion worldwide empire.
Yay! Bloodbath!
The fights are violent, and they are very, very bloody. If you don't like red you'll be seriously screwed. 

Supersonic: 24 episodes (plus one OVA that is definitely worth it) not a second left to rest. I don't know about you, but I was way too busy with laughing to get time to breathe.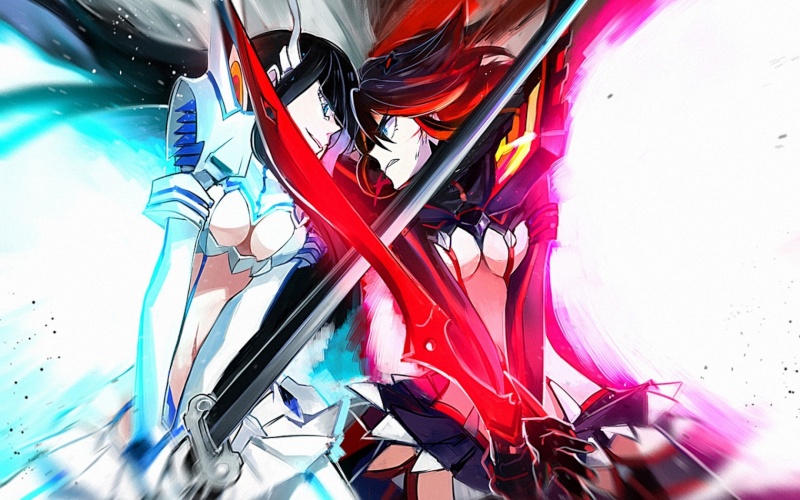 Why I absolutely loved it:
Amazing characters:
From the hot-blooded Ryuuko to the sweet n' clumsy Mako Mankanshoku, not forgetting the ironclad Gamagoori and the seducing Aikuro Mikisugi, every last char in this show is priceless. Even the sailor uniform Senketsu is packed with jokes and manly tremolos. 
Godlike soundtrack: Stands in the name. Hiroyuki Sawano, not less. The one who also did Shingeki no Kyojin and Guilty Crown soundtracks, among other masterpieces. Atomic music.
Badass Openings: Well I've only brought the first one here cause you may find spoilers in the second. Both are breathtaking and put you into the exact right vibes to enjoy 24 minutes of craziness.
Straightforward dialogues: Jokes everywhere. The overused punchlines from usual action anime are twisted and sound awesome, chars spout their lessons on life with heart and an obvious happiness to be there.
Overly crazy storyline and mad universe: The whole show is set on dressing, clothing, and sewing. You'll find explosive sewing dices and laser fibers. 
Though you'll also learn what's mighty about living naked. 
...And why you must listen to bob-headed girls waving their arms all around them.
Obvious parodies of multiple anime codes: Giant red billboards covering every inch of the screen to announce each fighting technique or character, ultraspeed fights, several shots of the same face screaming at the same time... Everything just feels like the creators of that dynamite stick wanted to have fun. One more thing that's worth watching.
Fiercly open-minded: This entire show is taking down oversexualization that is so often seen in anime. It shows people, of both genders, who all struggle to reach one and same goal in the end: feeling good the way they are. To make you feel the same way. 
This connection with us is something I found extremely well set in this show and made it even greater.
Moreover, this is one of the first anime I've seen that gives so much power and fame to women over men. Here most guys are fiercly stupid and genuinely primal, and all end up following the feminine leadership. Women have the highest impact on the story and the 4 more powerful characters are women as well. And that felt just perfect.
I'm a guy, and frankly, I laughed a lot everytime one of them ballzy boys made an entrance that was as boastful as it was comical.
Want me to sum it all up? Kill la Kill is powerful, punchy, and most of all, it's hilarious. Good vibes burst from every fiber of that show, alongside intense battles clad in epicness.