!
I know we already have a
GW2 topic
, but this is more about our little guild than for fresh newcomers.
Nonetheless, I'll remind everyone than
Guild Wars 2 is freely downloadable
on their official site.
Now then.
I've just started watching this anime called
Log Horizon
, and something very simply punched my face the moment the rpg characters started fighting.
They're coordinated as feck,
whereas we (Ruyuz-Mayu-Hiro) are absolutely not.
True, we haven't fought as a trio in forever (miss you Empress 

), but here I thought that now that we all have max level characters (most specifically late, me lol 

), I decided we might as well inform each other about our own class mechanics, skill set and specializations.
Our aim, if you're willing to reach it, shall be to know what strategy we can use as a 3-fighter-team.
That way, no one will get into each other's way, and I hope it'll help us chop down foes and tentacles with radiant paradoxal efficiency. LARP, all aboard! 
I have two chars, one Norn Warrior lvl 80 and a fresh new Human Engineer lvl16.
Of course Mr.Viking will be presented here.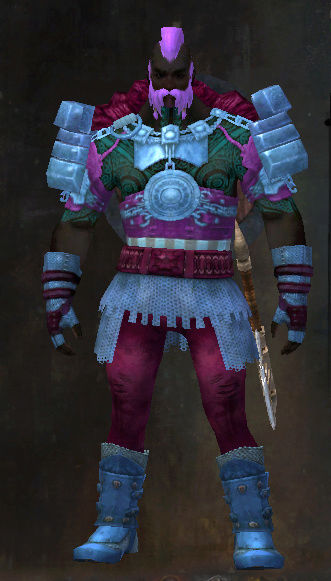 Yeah I got more fur and pink hair now.
Crappy-looking equipment just for fun.
Warrior Class mechanic:
Each time you hit, you gain adrenaline. It stacks, and at level 80 you got 3 bars of adrenaline.
The specific Warrior mechanic skill is called
Burst, a poweful attack 
which depends on the weapon used and is fuelled by adrenaline level. Just like with a toothpaste tube, the more juice you got the farther you can go. Reason why the longer the fight drags on the deadlier warriors are. Yeah, I heard "tank" too. 
Weapons:
I use either an
axe & shield
or a
rifle
.
    The
Axe
comes with very quick attacks allowing to build up Adrenaline the fastest among all weapon choices, and can
cripple
foes which is good for support role.
Building Adrenaline fast means I can get Burst fast with maximum Adrenaline level, delivering an Axe Leap which basically deals massive damage.
    The
Shield
can be used to
stun
bad guys (support again) and of course for blocking attacks.
    The
Rifle
deals massive damage against a precise target with a lot of conditions so it's also good for support.
Note: all of my weapons have upgrades focusing on healing and stealing HP.
Armor:
I picked the highest protection stuff available in heavy armour, and stacked on an upgrade which boosts Toughness, Vitality and lets me regen HP every second. Good for...yay tanking! 
Note: Just like all of my equipment I still mixed boosts to both attack power and defense. I saw you coming Ru 

Skills:Defiant Stance:
Self Heal + Incoming attacks heal me for 3s
Dolyak Signet:
Passive
Toughness boost +
Active
Stability (against those boring ennemies who mess with movement).
Breaks Stun.
Endure Pain:
No damage taken from incoming attacks for 4s. Still susceptible to conditions. 
Breaks Stun.
For Great Justice:
 Massive attack boost to allies. Also heals (see Tactics Specialization below).
Elite Battle Standard:
Banner which instantly revives allies, meaning if one of you falls down as long as I'm around the other one can lemme play nurse. Takes 120s to cool down.
Specializations
(summed up)
:Defense:
obviously focused on my tank role. Shield skills recharge faster, reflect projectiles, and I'm overall waaay sturdier, especially after breaking out of a
stun
(which is why I picked the skills above). I also gain protection while reviving one of you.
Tactics:
I picked the stuff which applies
Might
to allies (you deal more damage), heals them, and boosts shouts such as For Great Justice above.
Discipline:
 By swapping between my two weapon sets, I gain boosts, cure
conditions
and overload the 
Burst skill
so more damage. I also have much greater chances to
rally,
with health and endurance boosts so that should also let you fight even while I'm down.
Summary:
I can whistand most of the damage from big guys for a long time, and boost&heal y'all fast. As Mayu said yersteday I'm sorta your knight in shining armor 

Just put me right in front of the swarm and I won't be moving an inch. Come at me bro!
Waiting for your stuff I just hope you'll have the courage to write it all down lol.
See you on the other side