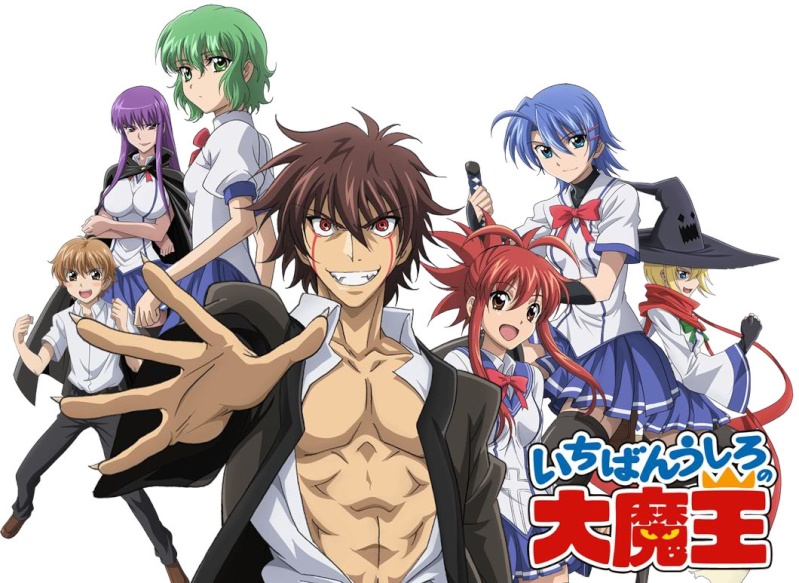 Finally! I get to write a review about hot stuff! Took me long enough!
Kidding there was already Kill la Kill for hotness. Let's just say I'm extremely happy about reviewing an ecchi.
Hehehe you're lucky, I picked one of my favorites tonight!
 Ichiban Ushiro no Daimaou.
Anime in 12 eps, directed by Takashi Watanabe and written by Takao Yoshioka.
It has been adapted from a light novel series which I happen to have downloaded (will tell you more about it once I'm finished with reading), written by Shotaru Mizuki and illustrated by Souichi Ito.
And here the ending (brought tears of happiness to my eyes even when in times of despair, because it's way too cute): 
RealLove RealLife by Sphere
Script:
Sai Akuto wishes to become a High Priest to help his fellow countrymen with his faith and wisdom,
thus transferring to the Constant Magic Academy.
Very happy to have made a friend of the powerful and brave young woman Hattori Junko while in the train, his bright mood falters in no time as he enters the schoolgrounds:
indeed, like every other student, he gets to be told his future occupation on his first day...
He won't become what he dreamt of, and neither will he be a soldier nor a diplomat.
Sai Akuto is destined to become the 
demon king
. 
Needless to say your usual demon king is someone planning to overtake the world, by sending hordes of monsters to butcher poor innocent people.
This is only the start of an awful lot of misunderstandings for our dear main character.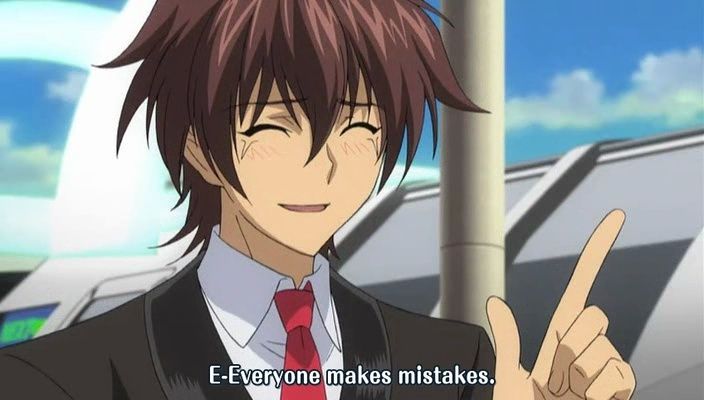 He's right. The thing is all about correcting them in the future 

What you must really, really be well aware of before watching it:
This is ecchi: the whole concept of ecchi is to launch one guy straight in the middle of a bunch of hot girls. While I find this to be both a brillliant and hilarious idea, I understand very well that not all feel the same. If this is your first step into such a magical realm, steady your foothold and buckle up. In any case, I think that taking ecchi as a big joke is the best way to enjoy it.
So, yes, there are panties flashing every 3 minutes (if not more often), 
and yes, you'll get drowned under boobs. 
That's what Hiro ecchi stands for.
What brought this ecchi on my top anime list:
Miracle! A real scenario!
Rest assured. With the aformentioned harem-principle as a basis, many ecchis get very lousy scripts.

 That's why I was pretty happy to find out that the story was pretty good here, with a serious plot and characters (at least some of them) driven by consistent goals.
Rich (and overly crazy) universe: you'll get a wonderful mix of fantasy elements, feudal Japan soldiers and even superheroes. I laughed a lot and found the patchwork idea very refreshing. Once again please do notice that even with such a mixing of different things they still succeed in following a plausible plot.
Very appealing characters: each one of them special and fun, forming a really efficient comedy team. Very important to add that even though Akuto is the main male protagonist, his "bro" Miwa Hiroshi is pretty well developped and plays a key role in almost every episode.
...wait this guy almost has the same first name as me?!? What the hell?
All the girls are amazing though very different from one another, and very well character-designed.
I'll add that bad guys are just hilarious because they can be astonishingly ridiculous.
Badass magic side effects:
as a quick example, I will only say that Akuto gains a LOT of brawn when he uses mana. Result as follows below is very hot
 funny, and stands on equal grounds with other spells used all along the episodes.
Dialogues made of gold: you were warned. I loved these, they added something so good to the story I literally laughed for entire episodes. Don't forget Ichiban Ushiro no Daimaou includes the divine sea cucumbers scene.
I hope you'll like it. Wether you're into ecchi or not, give it a go!

 Who knows, maybe you'll be strong enough to overlook naked flying girls? 
Enjoy the songs at least

Take care, see you soon on the Asses.