Here's my first post on Game review, and I'm going to tell you about my favourite game, I'm calling Devil May Cry to the stand o/
Devil May Cry was first released by Capcom on PlayStation 2 in 2001. It's a very famous beat-them-all, type of game where the aim is to fight against big troops of enemy.
Devil May Cry is known for the charisma of his main character Dante, but let me tell you about the synopsis and the universe first.
Universe and Synopsis :
The period where the game takes place isn't clear, because you'll be only playing in a big medieval castle. We can say with the next games, DMC 2, 3 and 4, that the history seems to take place in the XX century, or before.
Let me tell you the legend that leads DMC's universe...
It said that a long ago, Mundus, the King of Demons, wanted to conquer the human wordl by using his army. But his right-hand man, the legendary dark knight Sparda, in love with a human, rebelled against Mundus, leading a human army... Mundus was deafeated, but Sparda has now disappeared...
The story follows Dante, the son of Sparda, holding a grudge against Mundus, who's killed his mother and his brother. Part human, part demon.
Dante leads an agency named Devil May Cry, which chases demons and only accepts dirty jobs.
One day, Trish, a woman that looks like Dante's dead mother, bursts into the agency.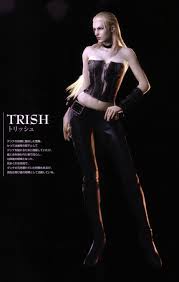 After a little fight where Dante shows his incredible abilities, Trish reveals to Dante that Mundus is going to be resurrected in a lost castle far away...
That's why Dante is going to reach that castle to find and beat Mundus before he could conquer the Earth...
Like you can guess, that's not an amazing synopsis. You have to know that DMC is centred on two things : 
Action, and Dante. 
The scenario is not a priority and is the big default of the DMC's games. But... Who cares ? Yup, the scenario could have been written by a little child, but DMC has three big qualities :
Dante, the gameplay, and the atmosphere.
Dante, the main character, could explain by his presence alone the success of the game. White hair, blue eyes, he is rebellious, arrogant, likes provocating ennemies by making fun of them.
He is...just stylish. Badass.
I have no other words to describe him.
At the beggining of the game, he fights with a huge sword given by his father : Let me present you the magnificient Force Edge ! 
For the ones who like fighting at a safe distance, you'll be able to use two guns. Named Ebony and Ivory, they have an ulimited number of bullets and a really fast pace !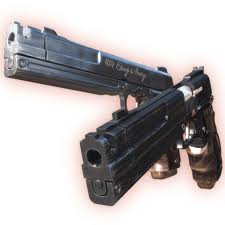 Further in the game, you'll be able to use other weapons, but I'm gonna let you discover them on your own

So Dante is a big badass rough, faithful to beat'them'all games. You'll see, nothin is more fun that beating ennemies after ennemies with a good music that puts you immediatly in the rythm ! It implies a good gameplay, and this one is good, and varies.
Not because of the weapons, there's not too many, but because of the areas and the type of ennemies.
Sometimes you'll have to fight in crowds of opponents, sometimes they'll just be two or three, and other times they arrive by waves.
Sometimes you'll fight in thin corridors, sometimes in huge room, sometimes under the water (with a subjective point of view, not very convenient but interesting) and sometimes in the air...
And finally, sometimes the ennemies will be flying, running, you'll have to change your technique at each boss to fight them very differently.
You know, personnaly I have too ways to fight bosses :
1. The careful way, used when the boss has very powerful attacks that make you reach midlife in one punch (Plus, you'll have to buy healing items : You won't find too many of them while fighting) : It's long, because to make sure you won't be touched you're going to attack him only once or twice every five minutes and kill him slowly.
2. The rough way : The ennemy hasn't too powerful attacks. You can hit him, again and again, because you're not loosing too much life by being hit.
And you'll see that you'll use those two techniques against bosses. So even if the concept of a beat'them'all can be simple, do not think that's it's easy. DMC is a bit hard sometimes, even in Normal mode. (Think that you have also Difficult Mode and Dante Must Die Mode, the most difficult mode in every DMC games.)
So even if the game is short, you'll take pleasure to try and retry bosses !
There's, to me, only one default in this gameplay : the camera.
When you have to jump on plateform, or when  you fight against a enormous boss, the camera can take points of view that are absolutely not convinient. Sometimes it can really bother.
Here some pictures of ennemies and areas :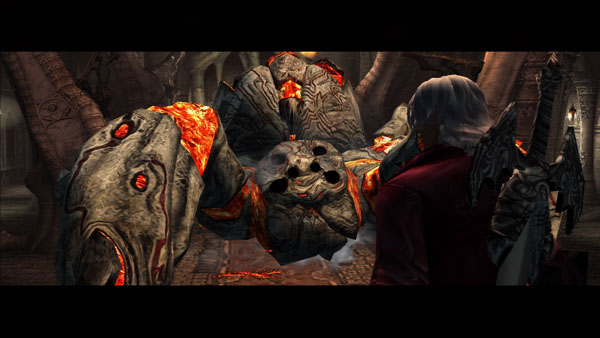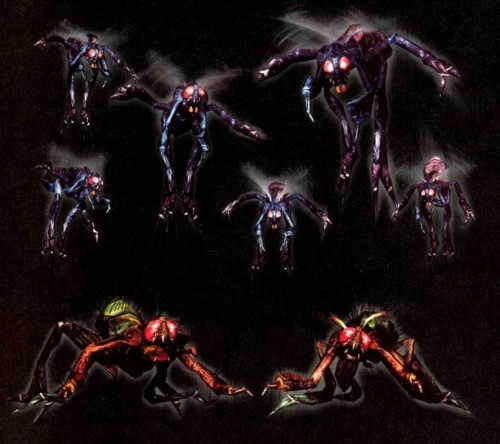 You'll have this amazing character and this cool gameplay in a particular ambiance : A bit gothic, served by rock or classical musiques, an interesting dark castle (If you read some books, you'll be able to discover a bit of background to this castle), pretty light effects and rooms with a real artistic sense... It's really enjoyable to play in that castle, believe me ! I'm not going to spoil you, but my favourite level really uses that castle at its advantage...
To conclude, DMC is a really good beat'them'all for those who like action and a stylish character.
It has now a lot of sequels :
Devil May Cry 2, which I find is not really good, with annoying fights and not enough cutscenes to explain the scenario.
Devil May Cry 3,  my favourite after Devil May Cry : The scenario, even if it could have been more exploited, is cool, and there's anthology's cutscenes in there !
Devil May Cry 4, with really pretty landscapes. And a lot of weapons to play with !
DMC, a reboot. Very controverted, it has changed a lot of things in the DMC's universe, like the main charcater. Still has a freaking good gameplay.
There are also mangas and an anime, but I didn't like them. The anime, with 13 episodes, could have made an effort to let the scenario get better, but it hasn't, the characters are less interesting and the fights annoying. Really.
So if you've already played DMC, please tell me