Hi ladies & gents!
Lucky for you, I have sudden admin attacks. 
Something in our Admin Panel allows us to include more codes
(aka Javascript, HTML, CSS Stylesheet)
, to customize and improve our forum appearance and functionality.
Two days ago, I realized we have a notification sound on our Shoutbox (the cute sound when someone posts a message), however that feature isn't included in our Chatbox (open to Members only).
Thus, I'm working on adding sound on the Chatbox. Sadly, it's not going as smoothly as I hoped it would.
Which is why...
...I've ended up working on something else that could be more easily set up. 
   Our Shoutbox can't be hidden, since it has to be seen by Guests.
   The Chatbox, on the opposite, is used more rarely now, and I think making it more discreet might be a good idea.
Here's what I've built:
You have a bar on top of your pages with notifications. I've added one named "Chatbox" on the right end.
It will show if you've received messages from other Members, even if you're not logged in yet.
When you click it, you're immediately logged in, and the Chatbox appears in the low right corner: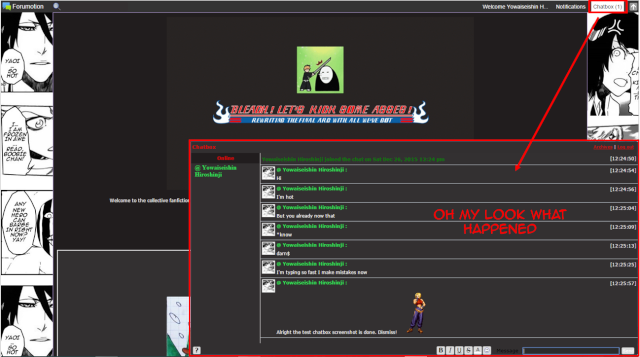 Smexy, isn't it? 
Well. "Smexy" is my own opinion. We're family, so I have no right to decide for everyone else. Tell me wether we should keep that window pop-up or not.
Detailed reply or faster one available throught the poll.
P.S. Sound coming soon.
Love y'all,
Hirosh'